2017 Theme: Music Meets Makeup

(MAKEUP GALA)
NETWORK: HULU
The Makeup GALA will be held in San Antonio, TX this year at the SASPA on Saturday, May 27. This formal red carpet event will take place in the evening. The specific start time will be 8pm. This event is created to cater to Makeup Artists all around the world and their art involved in the various looks. Until maybe just 2015, makeup artists were not being credited enough for their work and efforts. This Award Ceremony is a way of paying homage to Makeup artists across the board, annually. Below is the outlined itinerary for Saturday, May 27th.
o Introduction (Co-Host)
o History of Makeup (Guest Speaker)
o Main Night Host
- (Gametime- part 1)
- (Prize Giveaways-part 1)
- (10 minute bathroom break)
- (Performance 1)
- (Gametime- part 2)
- (Prize Giveaways-part 2)
- (Performance 2)
1.5 hours approximately done at this point
- (Youtube Gurus Talk)
o Award Handout (Co Host)
o Salons/Shops/Restaurants/MUA/Artists [30 second promo videos/red carpet press interviews/red carpet photos] (Main Host)
-Examples of 30 second promo videos: Click Here To View Example
- Examples of red carpet press interviews: Click Here To View Example
o MeetGreet/Food
o Return to Theatre (at given time) for last group of performances and gift giveaways
3-4 hours approximately done at this point
Specific details will be emailed to each party or individual, once he/she have purchased tickets. Your ticket will have the following listed: (Address/Date/Time/Unique #)
$100 per person (Before May 5) (CLICK HERE TO PAY)
$200 per person (After May 5) (CLICK HERE TO PAY)
$300 per person (May 27 at the door) (CLICK HERE TO PAY)
Once your payment has successfully gone through, you will receive an electronic ticket with a unique number. YOU WILL NEED THIS TICKET NUMBER AND PHOTO I.D AT THE DOOR. Hold unto your tickets until the end of the night on May 27, as the ticket numbers will be used for the gift giveaways.
DONATIONS: If you donate, you get free admission to the event and do not have to purchase tickets. People who have 10 or more employees tend to donate because it is cheaper for the company to donate a certain amount than for all employees to purchase individual tickets. For smaller companies with (5-7 employees), we ask that you donate $500. This is not mandatory, but there are benefits that come with donations. For companies that have over 7 employees, we ask that you donate $600-$900. All contributors will be advertised throughout the evening, and your company will be advertised to viewers on HULU. Your logo will be on the red carpet Wall, and your company will receive free press interviews.
THE PRICES ABOVE APPLY TO THOSE WHO ARE AFFILIATED WITH SALONS, AS WELL AS THOSE WHO ARE NOT.
For SALONS OR OTHER COMPANIES, please do not make individual payments. Please place one big payment and indicate each individual's name. This is easier for the agents in charge to account for everyone in your group or company. If you later find out that more employees from your facility wish to attend and they were not included in the first payment, you can then do an individual payment for that person.
If you are affiliated with a company or a Salon, please scroll down to the very bottom section entitled "SALON OR COMPANY" and read that section before signing this agreement form. This agreement form must be signed by everyone, regardless of if you work in a salon, a company or whether you are just an individual.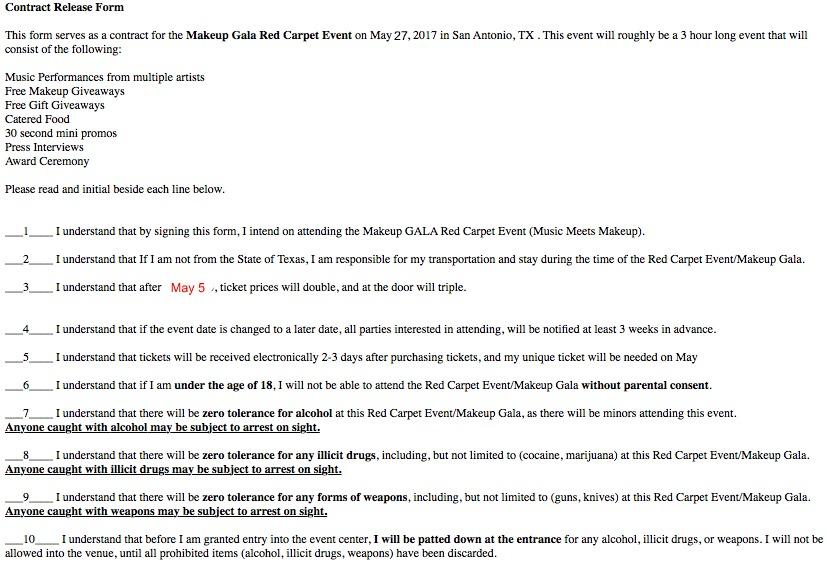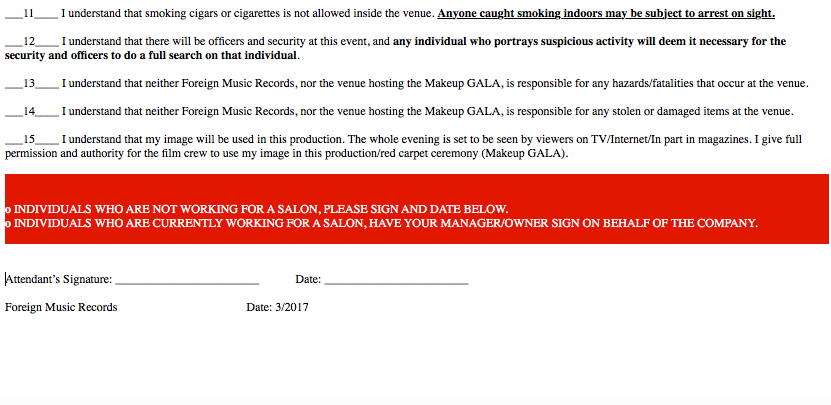 Agreement Form (Makeup GALA)
SALONS / OTHER COMPANIES
If you do not work in or for a salon or other company, then you do not have to read this portion of this page. If you work in a salon, shop/restaurant, then you will probably be interested in knowing that any salon that has at least a 50% employee attendance at the event will be included in an online commercial for your company. For example, if your store has 24 employees and more than 12 employees attend, you will be included in the 2017 Salon commercial, which will be filmed the following week. For Salons, we ask that you pay as a group for tickets above. You will have the option to list individual names of employees from your store. This event is also opened to friends and family, but they will have to pay separately from you. Each salon/shop/restaurant will also need to email their company logo here, as this will be used during commercial breaks. All companies in attendance will have their store logo on the red carpet backdrop. Each salon/shop/restaurant will get to do a press interview and will be given the exact time to be in the press room, during the actual event. For the agreement form below, Salon's manager or owner must sign for the whole group. If there are 24 employees, please do not send 24 signed agreement forms. Also, if there are only 2 or 3 employees, please still include all submissions as 1 submission from your company.